We've just run our 3rd PyDataLondon Conference (2016) – 3 days, 4 tracks, 330 people.This builds on PyDataLondon 2015. It was ace! If you'd like to be notified about PyDataLondon 2017 then join this announce list (it'll be super low volume like it has been for the last 2 years).
Big thanks to the organizers, sponsors and speakers, such a great conference it was. Being super tired going home on the train, but it was totally worth it. – Brigitta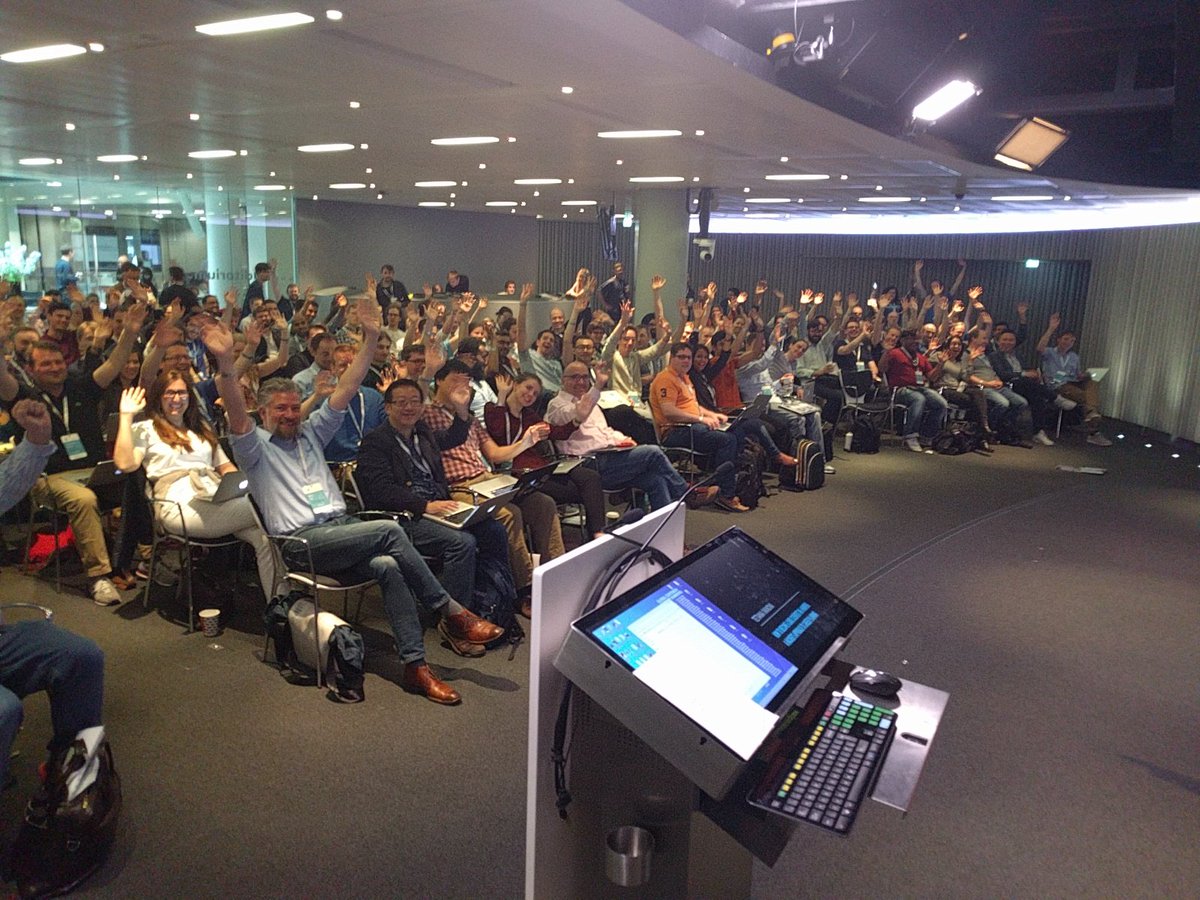 We held it at Bloomberg UK again – many thanks to our hosts! I'd also like to thank my colleagues, review committee and all our volunteers for their hard work, the weekend went incredibly smoothly and that's because our team is so on-top-of-everything – thanks!
Our keynote speakers were:
Our videos are being uploaded to YouTube. Slides will be linked against each author's entry. There are an awful lot of happy comments on Twitter too. Our speakers covered Python, Julia, R, MCMC, clustering, geodata, financial modeling, visualisation, deployment, pipelines and a whole lot more. I spoke on Statistically Solving Sneezes and Sniffles (a citizen science project using ML to try to diagnose the causes of Rhinitis). Our Beginner Bootcamp (led by Conrad) had over 50 attendees!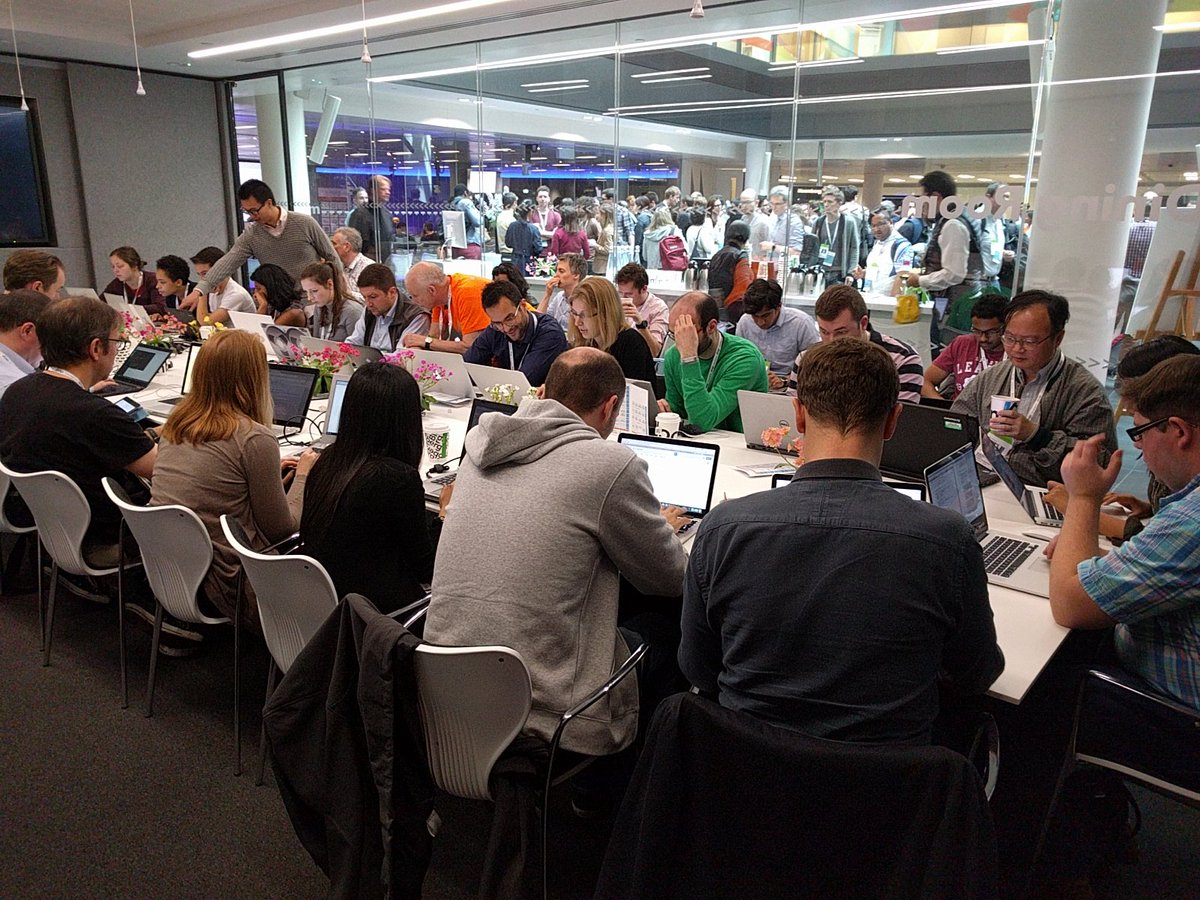 …Let me second that. My first PyData also. It was incredible. Well organised – kudos to everyone who helped make it happen; you guys are pros. I found Friday useful as well, are the meetups like that? I'd love to be more involved in this community. – lewis
We had two signing sessions for five authors with a ton of free books to give away:
Kyran Dale – Data Visualisation with Python and Javascript (these were the first copies in the UK!)
Amit Nandi – Spark for Python Developers
Malcolm Sherrington – Mastering Julia
Rui Miguel Forte – Mastering Predictive Analytics with R
Ian Ozsvald (me!) – High Performance Python (now in Italian, Polish and Japanese)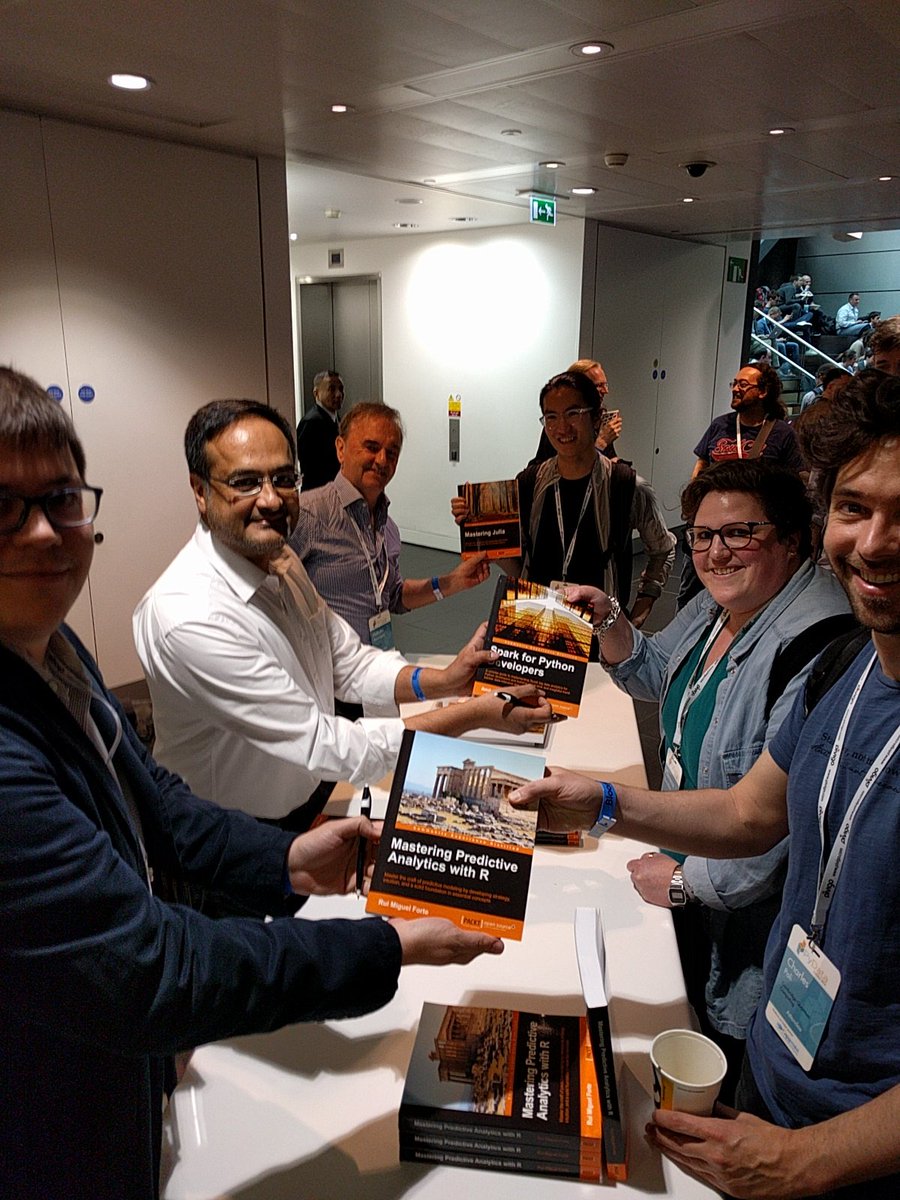 Some achievements
We used slack for all members at the conference – attendees started side-channels to share tutorial files, discuss the meets and recommend lunch venues (!)
We added an Unconference track (7 blank slots that anyone could sign-up for on the day), this brought us a nice random mix of new topics and round-table discussions
A new bioinformatics slack channel is likely to be formed due to collaborations at the conference
We signed up a ton of new volunteers to help us next year (thanks!)
An impromptu jobs board appeared on a notice board and was rapidly filled (if useful – also see my jobs list)
Thank you to all the organisers and speakers! It's been my first PyData and it's been great! – raffo
We had 15-20% female attendance this year, a slight drop on last year's numbers (we'll keep working to do better).
On a personal note it was great to see colleagues who I've coached in the past – especially as some were speaking or were a part of our organising committee.
With thanks to our sponsors and via ticket sales we raised more money this year for the NumFOCUS non-profit that backs the scientific Python stack (they give grants and stipends for contributors). We'd love to have more sponsors next year (this is especially useful if you're hiring!). Thanks to:
Let me know if you do a write-up so I can link it here please:
If you'd like to hear about next year's event then join this announce list (it'll be super low volume). You probably also want to join our PyDataLondon meetup.
There are other upcoming PyData conferences including Berlin, Paris and Cologne. Take a look and get involved!
As an aside – if your data science team needs coaching, do drop me a line (and take a look at my coaching testimonials on LinkedIn). If you want a job in data science, take a look at my London Python data science jobs list.
---
Ian is a Chief Interim Data Scientist via his
Mor Consulting
. Sign-up for
Data Science tutorials in London
and to hear about his
data science thoughts and jobs
. He lives in London, is walked by his high energy Springer Spaniel and is a consumer of fine coffees.