We've just had our 12th meetup – we're fully a year old, we've nearly 1,500 members and now we're planning our second conference (the Call for Proposals is open for just another 10 days!). Python Data Science has grown crazily-popular in the last couple of years!
Here's a photo from last week's meetup, that's over 220 people at our new host hedge-fund AHL (they're hiring):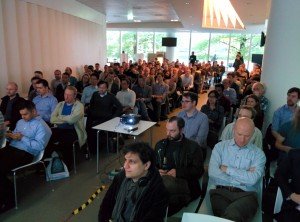 Our two speakers were:
Slavi Marinov talking on using gensim for topic classification for financial prediction

Lasse Bohling

talking on using statistics for football prediction at footballradar.com
Slides are linked in the meetup comments. We'll take a break for a month to run the conference (June 19-21), then we'll pick up again in July.
---
Ian is a Chief Interim Data Scientist via his
Mor Consulting
. Sign-up for
Data Science tutorials in London
and to hear about his
data science thoughts and jobs
. He lives in London, is walked by his high energy Springer Spaniel and is a consumer of fine coffees.